Become A Complete Forex Day Trader – WWD Tour's Binary Options Trading Course – Available Now !!!
Sale Page: becomeacompleteforexdaytrader
Original Price: 2,997
You just pay: $117
---
Description: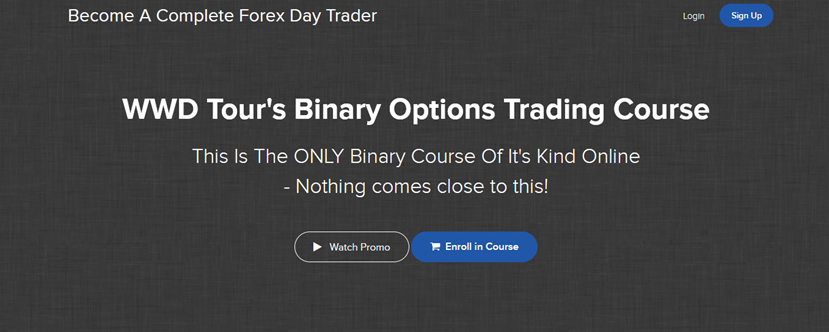 WWD Tour extends its Financial Trading Brand of comprehensive Video Courses by presenting yet another full on, no bars held Trading Course within the Binary Markets Industry.
It's jammed packed with information that no one else online even bothers to place into their content.
This is no ordinary Binary Course that you will find online. WWD Tour strives to make its courses different from others you typically see. It's not just about trading rules here. We actually teach you how to Trade on MT4 Trading Stations, similar to that of our Day Trading with The Professionals Course we have listed here as well. And take the knowledge and skill-set we give you to trade either directly off a MT4 Trading Station, or via a Web Trading Platform.
So even if you find that Trading the Binaries is not for you – because its not for everyone, the skills you learn from this can be adopted for Forex Trading directly from the MT4 Trading Station. Heck, even Trading the Nadex, so really you have 3 courses in one! That's where we extend our value. And since we like to over deliver, we're fully committed to mentoring you until you give up.
We give you the insights to the mindset of a successful trader.
The foundations that all Binary Traders should have under their belt before even attempting to Trade the Binaries.
It's our belief that everyone should have at least some form of Trading background because without it, how does one expect to be successful with Trading overall, not just for the short term, but for the long haul?
The fundamentals of basic trading, understanding market flow – the direction of the market, how to capitalize on errors should any be made. How to obtain confidence and hold on to that confidence no matter what problems you maybe having in your life.
This course is so well structured, there's no way you can not do well here. Unless you give up or don't commit yourself.
This is a very demanding course, any attempts to try and take short cuts, you will not succeed. The course is designed to ensure you master each element being shown to you. There's a spreadsheet that I created which allows you to keep track of your progress, where you take notes of how you felt during that day so you can look back and reflect on why your win rates are not in the high 60% or above area or why you did well better than other days, so you're able to pinpoint your weaknesses and strengths.
Experience is not necessary here.
Most courses will put the average person in the deep end with no prior knowledge and expect them to do well all because they gave them A, B, C rules of entry to take on a trade. It doesn't work. I've seen countless people fail over the long haul doing it this way.
We don't do that here. We're teaching you the fundamentals, the core principles of trading; understanding dynamic price changes and how to act off them, understanding how to capitalize on highs and lows, profiting from gaps, understanding order flow and structural high and lows to secure in fast profits, and so much more.
Once these foundations are fully wedged into your mind, this will give you the confidence to move on through the videos where you will practice several, not just one, or two, or three profitable methods like some do, but MANY approaches that you can use at any one time.
There is no point in learning to master just one approach and waiting for hours for a signal to come up.
We're teaching you how to become flexible, to spot signals every other 5 minute bar that is developed so you can get more out of your time while increasing your hourly ROI.
At this present time, there are at least 15 trading approaches for you to understand, put into practice, as you learn each one, one at a time – you'll start combining these methods so you will be able to fire off trades without being at your seat all day long, once your goal for the day has been reached. The Job is done! We pack up our bags for the day, and wait for a new day and do it all over again.
Success is about control,
it's about having a plan, and its about sticking to the plan while letting our tried and tested approaches that we have been using for approximately 20 years, yes believe it or not, Binaries has been around since 1996; BetOnMarkets and Xodds were the first of its kind to show presence online, do the work for you so you are able to walk off a winner all the time.
Because that's all we do and teach here, we prep you into becoming a Winner.
Proof of item: Please kindly contact us if you need proof of item