Alex Lytvynchuk – Car Dealership Domination 2.0 – Available Now !!!
Sale Page: alexlytvynchuk
Original Price: 2,997
You just pay: $67
---
Description:
The Shortcut To A 6 Figure Agency By Focusing On The Most Profitable Niche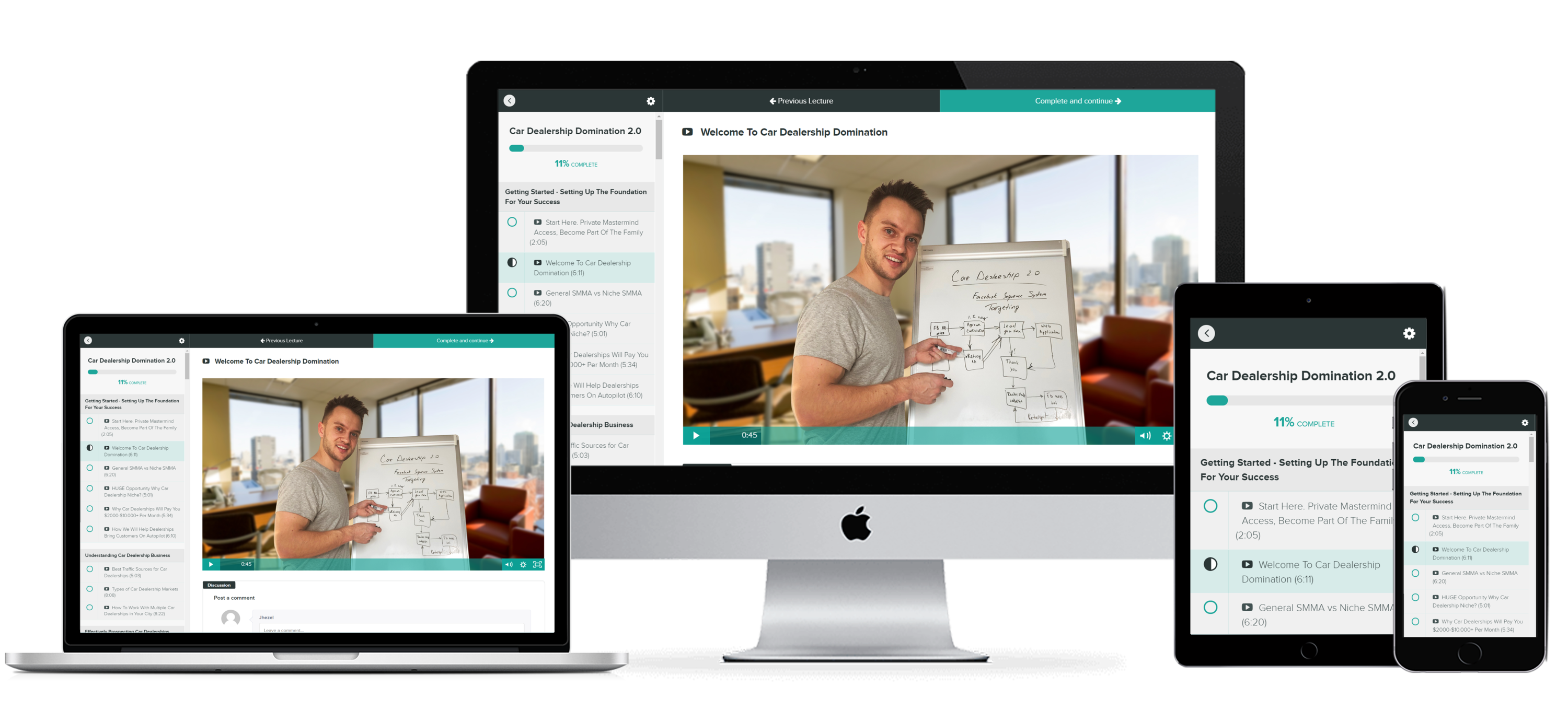 Proven Process
We have taken the guesswork out of starting your social media marketing agency. All you have to do is follow the steps and take action. We have this so systemized, people have considered CDD 2.0 to be like buying a franchise.
Rewires Your Brain for Success
Most people don't realize success is not possible being the same person they are now. That's why most fail. In CDD 2.0, I show you how to rewire your brain for success, and become a new you, highly capable of success.
Community of Like-Minded People
It's hard to change when you're surrounded by the same old people. When you surround yourself with successful people, you naturally work to get on their level. All of us will build you up, and we are all on this journey with you.
Expert Mentorship
It's normally impossible for the average person to afford expert mentorship. CDD 2.0 changes that. We have twice weekly live group consulting calls and 24/7/365 access to me and my team of experts on Facebook and email.
Every Single One of My Agency's Documents
60 Day Dealership Acquisition Calendar

Dealership Winning Offers Cheat Sheet

Monthly Advertising Report Template

Client Outreach Sheet

Proven Cold Outreach Script
Objection Handling Scripts
Facebook Ad Campaign Template
Contract Agreement Template
All My Client Systems
Sales script
Automated Follow-Up Text Scripts for Your Client's Leads
Lead-Tracking System
Automated Email Follow-Up for Your Clients
Car Sales Tracking 

System
Recording of a High Ticket (4000+) Close & More
Watch me close $4,000+ clients and other high ticket prospects on real sales calls from start to scratch. You'll be able to see the real deal and learn how to save confidence and close clients with ease.
Student Coaching Calls and Ad Critiques
Learn from coaching calls and other's mistakes by watching me personally coaching, motivating and setting the right mindset for success for my students as well as critique my students' ads, helping them turn from no-results to high-converting ads.
what's Included?
Lifetime access to 12 Modules with OVER 80 Videos ($2997 Value)
Support and Feedback in Our Private Mastermind Group ($997 )
How to Find & Close $2000/mo Car Dealerships with ZERO Sales Experience ($997 Value)
My Special Case Study Presentation to CLOSE Clients ($497)
My Exclusive Blueprint Strategies How DELIVER Results for Car Dealerships ($997 Value)
Sales Scripts, Email templates, Contracts, Funnel Templates + More ($997 )
Total Value: $7,482 | Actual Price:$1297
What Would It Mean To You If…
---
While you were building your agency you could reach out at any time whatsoever to others who've already been where you're at, and had successfully managed to get their clients results and build a successful agency?
If so, by how much do you think your chances of succeeding would go up, considering that anytime you ever faced a new challenge or had a question, you could reach out directly to someone who's already faced that challenge or question before?
Proof of item: Please kindly contact us if you need proof of item